WHY WE HAVE THE NO.1 DOGGIE CHEW BALL
93% of customers reported that their dog showed an immediate interest in the Doggie Treat Chew Ball, whilst 35% followed up with a message expressing how much their dog loves to play with it.
Our Doggie Treat Chew Ball is specially designed to boost your pup's mood & keep their teeth clean & healthy! Your dog will play with the ball as they attempt to get the treats out of the grooves, this stimulate your dog's senses & has them entertained for hours!
See your dog's overall happiness & quality-of-life improve by using this interactive & enriching toy! With such a high rate of extremely positive reactions, we are sure that your furry friend will love it!
BECOME ONE OF OUR SATISFIED CUSTOMERS
"My dog used to tear up my shoes and sofa & rarely kept interest with any toys. He no longer chews up anything other than this chew ball! It also keeps his teeth clean and breath fresh, while also keeping him entertained!"
Claire, Manchester
★ ★ ★ ★ ★
PRODUCT BENEFITS
🐾 A Great Outlet - Dogs love playing with balls that have treats in! Our Doggie Treat Chew Ball channels their excitement to healthy exercise & interaction with a toy!
🐾 Prevents Undetected Dental Diseases - Most gum diseases in dogs occur under the gum-line. This means that your pup may be in pain without you ever knowing! Give yourself the peace of mind that your dog is protected & comfortable by treating them to our Doggie Treat Chew Ball!
🐾 Promotes Healthy Teeth - Very effective at cleaning dog's teeth & gums. Designed to get in all the hard to reach places of your dog's mouth. Making sure to remove all plaque & leftover food!
🐾 Avoid The Hassle Of Teeth Brushing - Every dog owner knows the struggle of trying to brush their dog's teeth. Why not let your pup clean their teeth whilst playing with their own new favourite toy?
🐾 Prevent Your Dog From Biting On Other Things - Dogs have a natural instinct to bite on materials from around your home. This means that your dog can often damage your belongings or play with dangerous items. Our ball is a safe & healthy toy to chew on.
🐾 Prevents Many Other Health Issues - Our Doggie Treat Chew Ball stimulates a healthy appetite which helps prevent under/overeating.
🐾 Premium Quality & Bite Resistant - Made of a high quality, Non-Toxic rubber. It's extra durable, long lasting & built to withstand the biggest of bites.
🐾 Improves Mood & Prevents Destructive Behaviour - Allowing your dog to play releases endorphins (feel-good chemicals) in your dog's brain. This gives them life satisfaction & reduces their urge to perform destructive behaviour. This leads to a happy pup & a happy owner!
🐾 Eliminates Boredom - Our ball grabs the attention of your dog for long periods of time, as they are determined to get all the treats! Many traditional toys are not responsive & dogs often lose interest quickly as they are not interactive enough.
🐾 Eases Anxiety - The Doggie Treat Chew Ball is proven to help ease anxiety by providing your dog with healthy exercise whilst stimulating their mind.
Features
🐾 Multi-Functional Cleaning Effect - Our specially designed Doggie Treat Chew Ball benefits your dog in multiple ways! The slots/grooves massage your pup's gums & scrape the plaque & tartar off your dog's teeth.
🐾 Suitable For All Dogs - Our Doggie Treat Chew Ball is 100% safe for all dogs to chew on & play with so you can rest easy with the knowledge that your furry friend is safe biting on & playing with the Doggie Treat Chew Ball!
🐾 Bite Resistant - Made out of high quality, premium material that is extra durable, long lasting & built to withstand the biggest of bites.
🐾 Fill With Anything - The grooves can be filled with your pup's favourite toothpaste, treats & kibble! You can put dental sticks through the middle hole or even fill it with peanut butter! Try a variety of different things & see what your dogs love the most!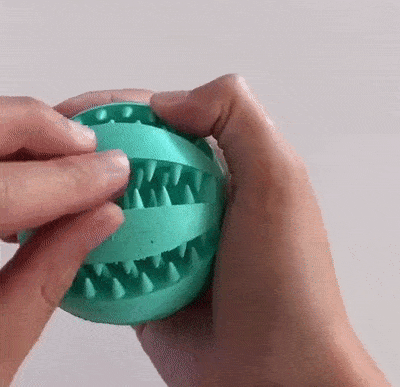 🐾 Highly Entertaining - Specially designed to boost your pup's mood! The random movement will stimulate your dog's senses & have them entertained for hours.
🐾 Safe Non-Toxic Material - Made of Non-Toxic rubber & does not contain dangerous chemicals that may be harmful to their health like many other dog toys.
🐾 Fresh Minty Taste & Smell - The rubber is made to smell & taste minty to keep your dogs breath smelling fresh!
🐾 Great For Fetch - It is super bouncy, perfect for a game of fetch with a delicious snack at the end!
Why Does My Dog Need This?
Whilst being stuck indoors, dogs are not receiving as much exercise as they normally would. This has been shown in many studies during the pandemic. Most dogs are in need of a way to get healthy exercise whilst staying safe indoors which is why we created the Doggie Treat Chew Ball. The ball provides a great way for your dog to stay active and healthy whilst eliminating any boredom.
Treat your pup to our Doggie Treat Chew Ball and watch it become their daily go-to way of having fun whilst enjoying the many benefits the ball brings such as reduced stress, alleviation of muscle and joint pain and many other great things!
How Does This Help The Human-Dog Relationship?
Your dog will display many behavioural ranges that are identical to their wild ancestors. This comes from their relatively recent domestication from wild solitary hunting dogs. This means that dogs often lack certain emotions that humans have, which can lead to misunderstandings and aggressive behaviour.
The Doggie Treat Chew Ball acts allows your dog to play, releasing endorphins (feel-good chemicals) in your dog's brain. This prevents destructive behaviour (e.g. attacking the couch, destroying wires, etc.) leading to a happy pup and a happy owner!
This prevention of destructive behaviour will subconsciously cause you to be even more loving towards your dog which they will respond to, improving your relationship with your best friend! Remember to always supervise your furry friend when using the Doggie Treat Chew Ball!
Why Do I Need Multiple Doggie Treat Chew Balls?
Having a selection of Doggie Treat Chew Balls at your disposal means that not only can you surprise your pup with different colours, but also you can use multiple balls at the same time to keep playtime exciting. If you have multiple dogs then you can also get one for each dog so no-one is left out!
Every dog reacts differently to each colour so it is best to try all colours and find your dog's favourite!
How Do You Use It?
It's super easy to set up, simply push their treats in between the teeth and you're set. You can even fill it up with peanut butter or yoghurt if your dog prefers! If they don't manage to completely clear it out before moving onto their next mission, just give Toothy a quick rinse before using again.
Specifications
Material: Non-toxic rubber
Size:

Small: 5cm diameter
Large: 7cm diameter

Flavour & Aroma: Natural mint
Type: Toy Ball
👉 OUR GUARANTE
🌍Worldwide Express Shippin
🔒100% Secure Payments
📞 24/7 Customers Support
🌎 Worldwide Shipping ✈
Please do note that shipping is insured and takes 10-20 business days worldwide. However, you may receive your items earlier. Tracking Numbers will ALWAYS be sent so you can track it every step of the way! Cool things are worth waiting for! 😉
🔒 100% Risk-Free Purchase 🔥
If you encounter any problems after purchasing, you can send an email to our mailbox for consultation: borroka-vip@outlook.com